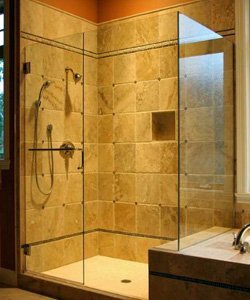 Custom Glass Shower Doors | Framed Glass Shower Doors | Sliding Glass Shower Doors
GlassWorks will be ready to assist you when it is time to replace a shower door.  For over three decades, we have been known as Chicago's most recognized leader especially since we have three GlassWork locations in the Chicagoland area.  We take pride in our work and want to make sure you are completely satisfied, and that is why we will design and install all that is required even for special designed store-fronts and outstanding office area glass to very reasonable-priced and spectacular shower doors and elaborate mirrors.  On staff, we have a team of 30 glass technicians who are skilled and ready to take on your project.  Our technicians will take the essential time and work right with you to ensure that you are completely aware of the unique glass choices and needs.  GlassWorks' main goal is to make certain that we finish the job with a high-quality product installed.  Our skilled and professional crew is completely aware about the ins-and-outs of the glass industry because it always seems to be changing often.  We remain on top of changes especially when it comes to new ground-breaking variations of glass style and aware of any new techniques for our highly-regarded customers.  No person is more efficient or certified than our educated glass pros.  At GlassWorks, we are field experts when it comes to shower doors.  We have a wide range of fashioned and tailored shower doors, covering anything from:  Frameless Shower Doors, Framed Shower Doors, Steam Shower Doors, and Sliding Shower Doors to our extraordinary Custom Shower Doors.  We have a substantial assortment of shower doors that will assimilate in with any home style.  We will offer you knowledgeably developed and priced sensibly shower doors.  Given how close we are being we are located in Glenview, a large amount of Addison residential owners have set their trust with GlassWorks for their highly accurate replacement shower door specs.
Addison Shower Door Installation
Addison, Illinois is a village located in DuPage County, approximately 21 miles slightly northwest of Downtown Chicago.  Addison has a population of almost 36,000 residents with just over 11,600 independent households.  GlassWorks has been working in Addison for quite a number of years.  Our Addison customers are able to appreciate the total value in our shower door installation course of action.  With Addison's median home values above $173,000 dollars, many property owners have begun remodeling their properties to boost its value throughout the difficult economy.  At GlassWorks, we have seen an increase lately in the volume of Addison customers trying to find a replacement shower door.  Basically, many Addison house-owners have asked about our exclusive personalized shower doors.  We will style and design a shower door that matches with your bathroom's decor and more effectively, with your price range.  At GlassWorks, we are absolutely focused to your brand new shower door installation and your total satisfaction.
Addison Glass Shower Door Installation
GlassWorks fully grasps that when choosing a shower door, your spending budget is ordinarily the key factor in your final decision.  We present all our appropriately built shower doors at the least expensive prices.  Our shower doors are unquestionably the very best investment decision you could ever make for your home right this moment because they are manufactured from top glass quality.  It's easy to see why it seems sensible to go along with GlassWorks' glass shower doors.  It truly is because we have a local made-to-order glass fabrication center, speedy turnaround, and give our greatest qualified and bonded installation.  You not only simply get a brand-new door when shopping for a shower door from our Chicagoland area GlassWorks' store, but you also are certain to get the most successful shower door installation in the entire area too. 
Addison Shower Doors | Addison Shower Door | Addison Glass Shower Door