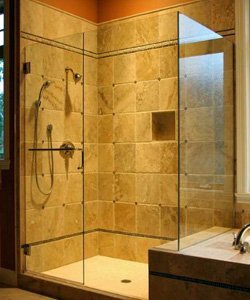 Custom Glass Shower Doors | Framed Glass Shower Doors | Sliding Glass Shower Doors 
The very next time you're in necessity of a shower door replaced; don't think about any other place other than GlassWorks.  For more than 30 years, GlassWorks continues to be the glass leader in the Chicagoland.  To confirm it, we have 3-locations all over the area of Chicago.  We design and style, then install every little thing from customized storefronts and divine office space glass to cost-effective and attractive shower doors and mirrors.  We have over 30 glass specialists who are fully devoted to accomplishing your over-all satisfaction.  Our professional staff will work with you to make sure you comprehend all of your glass requirements and choices.  At GlassWorks, we make the effort for superior quality at all times.  Our employees recognize that the glass industry is ever shifting, so we consistently strive to accomplish revolutionary glass designs and new principles for our buyers.  No one is more knowledgeable or experienced than our professional glass experts.  At GlassWorks, we are experts in shower doors.  We have a wide range of constructed and customized shower doors, which range from:  Steam Shower Doors, Frameless Shower Doors, Sliding Shower Doors, and Framed Shower Doors to unique Custom Shower Doors.  We have a shower door for any home you can possibly imagine and best of all; our shower doors are expertly built and cost-effective.  Given the close vicinity to our Glenview location, many Evanston property owners have been going to GlassWorks for their replacement shower door desires.
 Evanston Shower Door Installation
Evanston, Illinois is a suburban municipality located in Cook County, approximately 12 miles north of Downtown Chicago.  Evanston has a population of over 74,000 residents with over 33,000 households.  GlassWorks has been operating in Evanston for numerous years now.  Our Evanston customers see the importance in our whole shower door installation process.  With Evanston median home prices above $256,000, many of the property-owners are already upgrading their homes to enhance its value in the course of these complicated economic times.  At GlassWorks, we have witnessed a current spike in the quantity of Evanston customers hunting for completely new replacement shower doors.  In fact, many Evanston property-owners have even wanted to know about our distinctive custom-made shower doors.  We will make a design for a shower door that will fit within your bathroom's special style and more notable, within your spending budget.  At GlassWorks, we are fully focused to your completely new shower door installation and your 100% complete satisfaction.
 Evanston Glass Shower Door Installation
At GlassWorks, we recognize that when picking out a shower door, your allotted budget is typically the determining factor.  We offer all our skillfully built shower doors at the most cost-effective pricing.  Our shower doors are made from the highest-quality glass and are the very best purchase you can make in your house at the moment.  Why should you go with a GlassWorks glass shower door?  That's simple.  It's because of our fast turn-around, nearby custom-glass fabrication center, and our skilled and bonded installment.  When you buy a shower door from GlassWorks, you're not just obtaining a new door, but also the finest shower door installment in the Chicago area.  Call us a call today to learn more about our manufactured and customized shower doors.  Make sure to inquire about how to obtain your 10% discount on your new shower door!
Evanston Shower Doors | Evanston Shower Door | Evanston Glass Shower Door