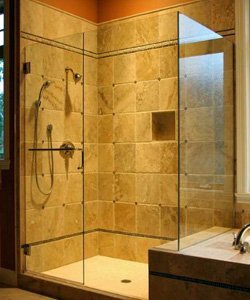 Custom Glass Shower Doors | Framed Glass Shower Doors | Sliding Glass Shower Doors
When the time comes, and you realize you are in need of a replacement shower door, think no more other than GlassWorks.  For over three-decades, GlassWorks has become Chicagoland's glass most recognized leader.  We have 3-locations conveniently located all over the Chicagoland city and neighboring areas.  We will love to design and set-up every little thing you need from our custom-storefronts and beautiful business office space glass to our cost-effective and captivating mirrors and shower doors.  On board, we have just over 30 glass techs available who are absolutely dedicated to accomplishing your over-all satisfaction.  Our professional and expert team of employees will continue to work with you until the job is done to make sure you have a complete understanding of all your needs and options with the glass.  At GlassWorks, we always thrive and strive for quality craftsmanship.  Our team of employees does understand completely about what the glass industry is all about and how it is always changing.  This is exactly why we thrive to strive in achieving all of our revolutionary glass designs and fresh new ideas for our consumers.  Nobody is more knowledgeable or skilled than our specialized glass techs.  GlassWorks has the area of expertise in shower doors, which I am sure you already knew that.  We have a large number of already manufactured or even custom-made shower doors, covering anything from:  Steam Shower Doors, Framed Sliding Doors, Frameless Sliding Doors, and Sliding Doors, to our distinctive Custom Shower Doors.  Regardless of what kind of home you have, we have every imaginable shower door and it gets even better; our shower doors are built by skilled professionals and are quite reasonably priced for everyone.  Given the closeness to our Glenview site, a lot of Gurnee homeowners go to GlassWorks for all of their replacement shower door wants when needed. 
Gurnee Shower Door Installation
Gurnee, Illinois is a village located in Lake County, approximately 39 miles north of Downtown Chicago.  Gurnee has a population of 31,000 citizens all within 12,000 individual households.  GlassWorks has been servicing the Gurnee area for many years now.  It isn't too difficult for our Gurnee customers see the value of our shower door installing process.  In the Gurnee area, you will find the median home values are just around $180,000, and many home-owners have started to renovate their homes to help improve its value especially through these trying economical times.  We have seen a surge in the number of Gurnee customers in search of a replacement shower doors lately at GlassWorks.  The truth is, many of these Gurnee homeowners even have inquired about our gorgeous, unique custom shower doors.  We will take our time and design the perfect shower door fitting your bathroom's style within your spending budget.  At GlassWorks, we are entirely committed to your fresh-new shower door set-up and your 100% complete satisfaction too.
Gurnee Glass Shower Door Installation
We know that when deciding upon a shower door that is within your budget is usually the final say in your decision.  GlassWorks will offer you all of our skillfully-built shower doors at the lowest prices that won't be found anywhere else.  Our shower doors are created of the greatest quality glass making it the best investment you can make for your home right now.  It is easy to see why anyone would go with GlassWorks glass shower doors because we have a fast turn-around, all work is a bonded installation by an experienced tech, and we have a local custom-glass fabrication facility nearby.  When you decide to pay for a shower door from GlassWorks, you will get a new door and will get the best shower door installation found in the Chicago vicinity.  To learn more about our custom-made and manufactured shower doors, just pick-up the phone and give us a call.  Remember to ask about how you can get a 10% discount on your next new shower door!
Gurnee Shower Doors | Gurnee Shower Door | Gurnee Glass Shower Door