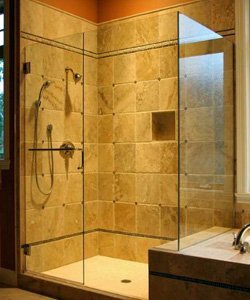 Custom Glass Shower Doors | Framed Glass Shower Doors | Sliding Glass Shower Doors
The next occasion you would like to replace a shower door, you don't need to think any further than GlassWorks.  Over 30 years now, GlassWorks has been the Chicago area's glass innovator.  To show it, we have 3-destinations located around the Chicagoland vicinity.  We will style and put in every single thing from custom made storefronts and superb office area glass to inexpensive and captivating shower doors and wall mirrors.  We have around 30 glass skilled technicians who are completely dedicated to reaching your total satisfaction.  Our expert team will take the time and work with you to guarantee that you have a complete understanding about all of your various glass needs and options.  Our goal is to make sure we achieve top-quality at GlassWorks.  Our skilled employees have a comprehensive understanding about the glass industry because it is constantly changing.  We continuously make the attempt to obtain cutting edge glass styles and new strategies for our respected customers.  No one is more competent or educated than our qualified glass technicians.  At GlassWorks, we are the industry experts in shower doors.  We have a wide range of constructed and tailor made shower doors, ranging from:  Steam Shower Doors, Frameless Shower Doors, Sliding Shower Doors, and Framed Shower Doors, to distinct Custom Shower Doors.  We have shower doors for any type of home that you can imagine.  We offer skillfully built and reasonably priced shower doors.  Granted the close distance to our Glenview location, many Schaumburg home owners have been putting their trust with GlassWorks for their particular replacement shower door demands.
Schaumburg Shower Door Installation
Schaumburg, Illinois is a city located in Cook County, approximately 30 miles northwest of Downtown Chicago.  Schaumburg has a population of over 75,000 citizens with almost 32,000 separate households.  GlassWorks has been serving the Schaumburg area quite a lot of years.  Our Schaumburg customers know the value when they see it with our shower complete door installation process.  With Schaumburg median home values above $174,000, there is a great deal of house-owners who have started upgrading their homes to boost up the total value primarily in the course of these striving economic situations.   Most recently, we at GlassWorks, have seen a rise in the amount of Schaumburg customers on the lookout for a new replacement shower door.  The truth is, lots of Schaumburg house-owners have already been questioning about our exceptional made to order doors.  We will take our time to design a shower door that will fit with your unique bathroom's decorations and much more significantly, with your bank account.  At GlassWorks, we are totally committed to your satisfaction of your new shower door installation.
Schaumburg Glass Shower Door Installation
At GlassWorks, we realize that when deciding upon a shower door, your spending plan is generally the deciding factor in the end.  We offer all our expertly built shower doors at the most economical rates.  Our shower doors are crafted from the maximum quality glass, and it is the best investment you could make in your residence currently.  Why choose a GlassWorks glass shower door?  That's uncomplicated.  It's because of our quick transformation, area customized glass fabrication facility, and our knowledgeable and bonded set up.  When you invest in a shower door from GlassWorks, you're not simply receiving a new door, but also an ideal shower door set up in Chicagoland neighborhood area.  Just phone us today to learn more about our custom-built and manufactured shower doors.  Make it a point to inquire how to receive your 10% discount on your brand-new shower door!
Schaumburg Shower Doors | Schaumburg Shower Door | Schaumburg Glass Shower Door