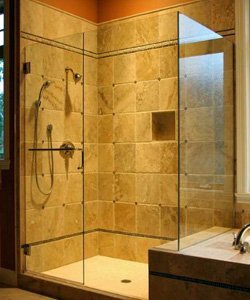 Custom Glass Shower Doors | Framed Glass Shower Doors | Sliding Glass Shower Doors
For well over 30 years, Chicago's primary glass leader is GlassWorks.  So, when the very next time arises and there is a need to have a shower door replaced, you know who to contact – GlassWorks.  We have three convenient locations right in the neighborhood for you to choose from.  When it comes to every single little item whether being tailored storefronts and mind-blowing office room glass to practical-priced and desirable shower doors and mirrors, we will design and style it, then install it to perfection.  On our staff, we have just over 30 educated glass specialists who are loyal to achieving 100% customer satisfaction.  Our specialized staff will assist you in making sure you fully grasp all of your glass prerequisites and decisions.  At GlassWorks, we continually make sure we do every job keeping excellent quality all of the time.  Our hard-working employees are able to identify that the glass industry is ever changing because of that we persistently make an effort to achieve ground-breaking glass designs and new key points for our potential buyers and buyers.  No one is far more educated or seasoned than our professional glass authorities.  At GlassWorks, we are the shower door experts; we have a wide-selection of made and tailor-made shower doors, which range from:  Steam Shower Doors, Sliding Shower Doors, Frameless Shower Doors, and Framed Shower Doors to quite distinct Custom Shower Doors.  Regardless of what type of home you have, we have the shower you may not have ever possibly imagine.  Something good to know is that our shower doors are adeptly built and are very affordable for everyone.  Given the in close proximity to our Glenview location, there are many Westmont house-owners that have been going to GlassWorks when they need shower door replacements.
Westmont Shower Door Installation
Westmont, Illinois is a village located in DuPage County, just over 23 miles slightly southwest of Downtown Chicago.  Westmont has a population of over 26,000 residents with just over 9,900 separate households.  GlassWorks has been servicing Westmont for many years now.  Our Westmont customers know the value with our entire shower door installation methods.  With Westmont's median home values above $180,000 dollars, many home-owners have decided to renovate their homes to maximize its worth while in these tough economic times.  At GlassWorks, we have experienced a current increase in the quantity of Westmont customers searching for a replacement shower door.  Actually, many Westmont home-owners have inquired about our unique customized shower doors.  We will design and style a shower door that suits with your bathroom's design and more essentially, with your budget.  At GlassWorks, we are completely devoted to your brand-new shower door installation and your complete satisfaction.
Westmont Glass Shower Door Installation
At GlassWorks, we have a complete understanding that when making a decision about a shower door, your price-range is in most cases is the important factor for your ultimate selection.  We will provide you with all our professionally built shower doors at unbeatable prices.  Our shower doors are absolutely the best investment decision you can make in your home right now because they are made of the highest glass quality.  It's easy to know why it makes sense to go with GlassWorks' glass shower doors because we have a localized made to order glass fabrication facility, immediate turnaround, and give our best skilled and bonded installation.  You not only get a brand new door when buying a shower door from our Chicago area GlassWorks' store, but also you will get the most effective shower door installation in the area.  When you give us a phone call to discover more about our well-constructed and custom-made shower doors, make sure you find out about how to get a 10% discount on your next new shower door!
Westmont Shower Doors | Westmont Shower Door | Westmont Glass Shower Door